Local Business supporting Local Business throughout unprecedented times
EDS Couriers & EDS Stoke are a local family courier company in the WS, WV, CW and ST area. In addition to this we provide a nextday Nationwide delivery service through our delivery partners APC Overnight and Palletforce. We are keen to support local business that are supplying essential items locally and further afield. During […]
Posted on 26th March 2020 by Mark
Covid-19 (Coronavirus) Update 24/03/2020
Dear Valued Customer,   As you are all aware following news from Boris Johnson, Prime Minister, the Government has now restricted the movement of people, and has stated that all non-essential retail stores are to close and remain closed for the next 3 weeks. In extension to this information, we wish to reiterate the below […]
Posted on 24th March 2020 by Mark
Coronavirus
(COVID-19) is a new strain of coronavirus first identified in Wuhan City, China.  The current outbreak of Covid-19 (aka Coronavirus) is becoming an increasing issue Worldwide, with many new cases being reported within the UK daily over the past two weeks.   We are monitoring this situation very closely and wish to reiterate that the […]
Posted on 11th March 2020 by Mark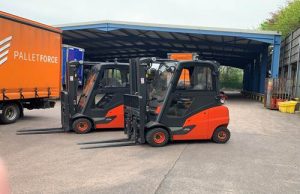 New Forklift Trucks
INTRODUCING OUR BRAND NEW FORKLIFT TRUCKS: We are pleased to announce we have added two brand new Forklifts Trucks to our fleet at our Cannock depot! Some of their incredible features include: Fully enclosed cab with sound proofing & heating system, including heated rear screen. Safe working perimeter zone via red laser projector lines on […]
Posted on 25th September 2019 by Mark
Can I send alcoholic gifts via courier?
When you're stuck for something to send as a Christmas gift, wine, beer, gin or whisky often come to the rescue. Not to help you boost your brain-power in thinking of a gift, but to give as the gift itself! We're often asked if we can deliver parcels containing alcohol. As APC is one of […]
Posted on 7th December 2018 by Mark
We can't by-pass the bypass!
If you live in or around Cannock, we're sure you are aware by now of the major disruption being caused on the Orbital bypass! Whether you think the new retail outlet will be a good thing or a bad thing for the town, the fact remains that construction is well and truly underway, and roadworks […]
Posted on 22nd November 2018 by Mark
MD Andy organises eye-opening trips to Africa for students
Our former managing director, Andy Evans, is opening teenagers' eyes to the hardships other youngsters face, helping organise life-changing trips to Africa. As part of his voluntary work with local charity Link for Life Project and partner organisation,  Hands At Work in Africa UK, Andy has partnered with local schools to take groups of students […]
Posted on 9th October 2018 by Mark
Reasons to order and send your Christmas presents early!
We all do it – leave things 'til the last minute and then end up panicking about getting them done. This is very often the case with ordering and sending Christmas presents. We have a whole year to plan, but most of us won't think about preparing for Christmas until November, or December in some […]
Posted on 8th October 2018 by Mark
Parcel Sorter
Job Description:  Parcel Sorter Main purpose of the role is loading and unloading parcels Key responsibilities for this role will include: – To unload parcels from vehicles. – To load parcels into cages or pallets. – To sort parcels into correct routes. The role is physically demanding and target driven therefore motivation and enthusiasm are […]
Posted on 1st October 2018 by Mark
Top tips for packaging parcels
Whatever you're sending via courier, you want to make sure it arrives in tip-top condition. Whether it's important business documents, an item you've sold on e-bay or a Christmas present for a friend or family member – you don't want to risk your parcel contents getting damaged in transit. Whilst we take every care to […]
Posted on 19th July 2018 by Mark