Reasons to order and send your Christmas presents early!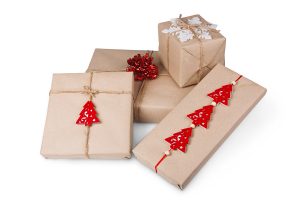 We all do it – leave things 'til the last minute and then end up panicking about getting them done.
This is very often the case with ordering and sending Christmas presents. We have a whole year to plan, but most of us won't think about preparing for Christmas until November, or December in some cases! Online ordering makes it easy, doesn't it? A quick click and your lovely, well-thought-out gifts will be on your doorstep in no time.
Unfortunately, it doesn't always happen that way. Delivery companies are at their most stretched at this time of year, meaning delays and damages can be more common.
Having a bit of forethought and forward planning when ordering and sending Christmas presents can make your yuletide run much smoother. Here's how!
Less stress
There's enough to worry about at Christmas time, like how you can keep the cat out of the Christmas tree, or how you're going to seat 12 people round a table designed for six. The last thing you want to be worrying about in the run up to the day itself is whether or not your gifts will arrive in time. Give yourself a break and tick this off the to-do list early, then you can focus on all the other stuff…
The unexpected can happen
If you order or send your parcel just in time for Christmas, you're not allowing for those unexpected hiccups that can sometimes happen. What if your parcel gets delayed, or lost? What if it gets damaged in transit? What if it arrives, and you find out you've duplicated a gift, or sent the wrong size? What if, in the whirlwind of preparations, you've sent the wrong parcel to the wrong person? Give yourself plenty of time and you can put right anything that goes wrong.
Save money
If you end up relying on a sameday or next-day delivery service to ensure your gift is received in time, it will cost you more than standard parcel post – and who needs extra expense at an already extravagant time?
Re-arranging missed deliveries will be more difficult
If you've left things 'til the last minute, missed deliveries can be your worst nightmare. Delivery and courier companies are under a great deal of strain in December, meaning it won't always be possible for them to accommodate re-schedule requests in time for Christmas Day. Why risk it?
Have we convinced you? Get ordering and sending your Christmas gifts now.
For a parcel delivery quote, give e.d.s. Couriers a call on 01543 466 455.
Posted on 8th October 2018 by Mark