New Forklift Trucks
INTRODUCING OUR BRAND NEW FORKLIFT TRUCKS: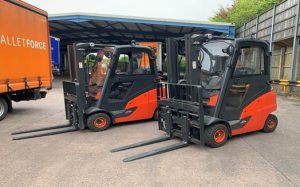 We are pleased to announce we have added two brand new Forklifts Trucks to our fleet at our Cannock depot!
Some of their incredible features include:
Fully enclosed cab with sound proofing & heating system, including heated rear screen.

Safe working perimeter zone via red laser projector lines on floor at rear & sides of vehicle.

Fully integrated pallet weighing system with one button press tare and weigh facility.

Android pre-use check system with fail safe – vehicle will not operate unless checks have been performed.

Seatbelt safe system (will not operate unless seatbelt is used.)

Auto shutdown – vehicle will switch off after 90 seconds if operator alights from cab with engine running.
We strive where possible, to always utilise the height of technology throughout all aspects of our Operation and can't wait to see the benefits from these pieces of equipment throughout our AM and PM Operations."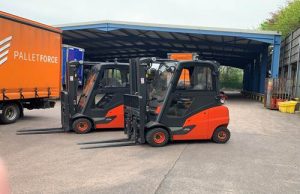 Posted on 25th September 2019 by Mark