MD Andy organises eye-opening trips to Africa for students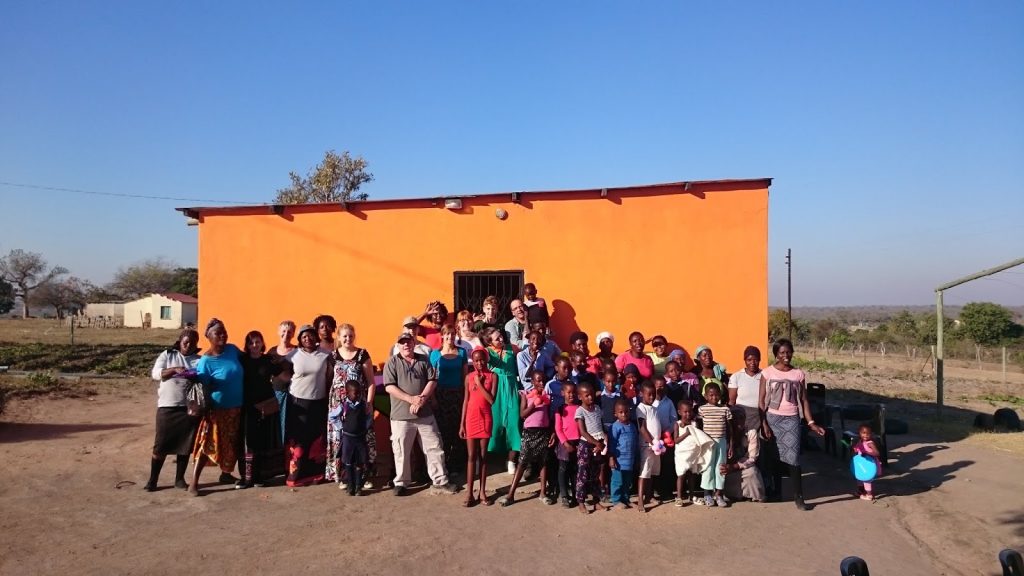 Our former managing director, Andy Evans, is opening teenagers' eyes to the hardships other youngsters face, helping organise life-changing trips to Africa.
As part of his voluntary work with local charity Link for Life Project and partner organisation,  Hands At Work in Africa UK, Andy has partnered with local schools to take groups of students on charitable projects in the Mpumalanga region of eastern South Africa.
Andy has been volunteering with the charity since 2009. He recognised the opportunity to educate and promote understanding of the plight of orphaned and vulnerable young children in Africa, working with the Rose and Richard Westwood who have engaged with the local schools in Staffordshire.
Andy has just returned from a visit in August and the next trip is planned for February 2019, when the team will involve students from Wolgarston High School in Penkridge.
Andy said: "Many of the students who visit Africa with us are aged 15 to 17 and it opens their eyes, and makes them aware of things that many of us take for granted."
"It helps them realise how important education is and often it changes their outlook on life, and they are motivated to continue in education and possibly go on to university. They are humbled by what they see in Africa – such as children that don't have much hope, and don't go to school because they can't afford the school uniform. The students who visit have to leave behind their game consoles and mobile phones, and often get the chance to walk alongside the children in Africa which helps them to fully appreciate the challenges they face every day."
"It's also a great way of encouraging young people to fundraise. Before the students leave the UK they have to spend 12 months raising the money for the trip, which is done through events such as quiz nights, car washes, afternoon teas and three legged races. This all helps towards building their confidence," said Andy. "When the students return they talk to other students, do assemblies and chat to local groups to share what they have learned through their visit to Africa.
"Teenagers here don't appreciate how hard life can be for children in developing countries. Often, they are left to look after themselves as their parents have to work long days; A mother working on a banana plantation, for example, may have to leave her young children in the village to work 28 days straight before she can have two days off. Fathers might be working in the mines hundreds of miles away and so don't come home often."
Over the years, Andy and the teams he as been involved with, have assisted in building new toilets, feeding programs and supporting the care workers who look after the children even though they themselves have very little.
Link for Life Project help to support Hands at Work in Africa who in turn help to train volunteer care workers in Africa to help them deal with the complexities of working with orphaned and vulnerable children.
"It is a rewarding experience," he said, "and one that I'm pleased I can share with so many young people in Staffordshire."
Teenager, Molly Jones, was a student at Great Wyrley High School when she visited for the first time three years ago. She went on the most recent trip as a junior leader. She said:
"Returning back from Africa, my views on wider issues has changed. I actively try to challenge ideas and thoughts to see different outcomes.
"My educational journey hasn't been smooth at all but, after going to Africa, I have been more motivated to succeed. Meeting people who don't have the opportunities I do has made me very grateful for the things I used to take for granted.
The children and the care workers inspire me every day to become a better, selfless person as the care they offer day in, day out is breathtaking.  These women and children are amazing."
Michael Leonard, science teacher at Wolgarston High School, said: "We have joined together with our local churches and the charity, Link for Life Project, to expand our spiritual, moral, social and cultural side of school life to take on a more diverse and international feel.
"We have shown through a range of activities from Diversity Day and Community Day that we are a school that cares and wants to help a wider community. This has been evident over several years with all of the generous donations to the food boxes that we put together each Christmas to be taken to our local food bank.
"By going to South Africa and meeting orphaned and vulnerable children in communities less fortunate than ours, we get a greater understanding of how people from other countries live and we are able to help those communities to grow and develop to improve the lives of their children.
"This is a link for life, so Wolgarston students will go back to meet these communities in future years to continue this help and to report back to the school, churches and wider community of the progress that is being made."
Posted on 9th October 2018 by Mark