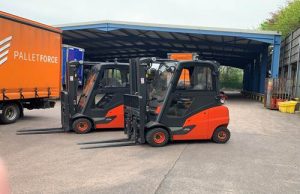 New Forklift Trucks
INTRODUCING OUR BRAND NEW FORKLIFT TRUCKS: We are pleased to announce we have added two brand new Forklifts Trucks to our fleet at our Cannock depot! Some of their incredible features include: Fully enclosed cab with sound proofing & heating system, including heated rear screen. Safe working perimeter zone via red laser projector lines on […]
Posted on 25th September 2019 by Mark
Can I send alcoholic gifts via courier?
When you're stuck for something to send as a Christmas gift, wine, beer, gin or whisky often come to the rescue. Not to help you boost your brain-power in thinking of a gift, but to give as the gift itself! We're often asked if we can deliver parcels containing alcohol. As APC is one of […]
Posted on 7th December 2018 by Mark
We can't by-pass the bypass!
If you live in or around Cannock, we're sure you are aware by now of the major disruption being caused on the Orbital bypass! Whether you think the new retail outlet will be a good thing or a bad thing for the town, the fact remains that construction is well and truly underway, and roadworks […]
Posted on 22nd November 2018 by Mark
MD Andy organises eye-opening trips to Africa for students
Our former managing director, Andy Evans, is opening teenagers' eyes to the hardships other youngsters face, helping organise life-changing trips to Africa. As part of his voluntary work with local charity Link for Life Project and partner organisation,  Hands At Work in Africa UK, Andy has partnered with local schools to take groups of students […]
Posted on 9th October 2018 by Mark
Reasons to order and send your Christmas presents early!
We all do it – leave things 'til the last minute and then end up panicking about getting them done. This is very often the case with ordering and sending Christmas presents. We have a whole year to plan, but most of us won't think about preparing for Christmas until November, or December in some […]
Posted on 8th October 2018 by Mark
Parcel Sorter
Job Description:  Parcel Sorter Main purpose of the role is loading and unloading parcels Key responsibilities for this role will include: – To unload parcels from vehicles. – To load parcels into cages or pallets. – To sort parcels into correct routes. The role is physically demanding and target driven therefore motivation and enthusiasm are […]
Posted on 1st October 2018 by Mark
Top tips for packaging parcels
Whatever you're sending via courier, you want to make sure it arrives in tip-top condition. Whether it's important business documents, an item you've sold on e-bay or a Christmas present for a friend or family member – you don't want to risk your parcel contents getting damaged in transit. Whilst we take every care to […]
Posted on 19th July 2018 by Mark
Driving miles and delivering smiles for nearly 50 years
It's definitely the end of an era here at e.d.s as we wave a very fond farewell to a much-loved driver, who's retiring after being in the delivery business since he was 17! Geoff Elson started his career as a Walsall milkman, before moving on to become a delivery driver for a number of local […]
Posted on 13th July 2018 by Mark
Is your car summer safe?
Sunny weather can be as dangerous as snow and ice if your car isn't summer-ready. In fact, more accidents involving death or serious injury on Britain's roads are reported during the summer months than through the winter. Bit of a shocker, right? Our vehicle servicing experts, Ryan and Joe, always make sure our eds vans […]
Posted on 8th June 2018 by Mark
WIN a football shirt and kick off World Cup season in style!
To celebrate the launch of the World Cup, we'd like to treat one lucky fan to a brand new World Cup shirt of their choice! Enter the competition on our Facebook page and you could be receiving a special delivery of a football shirt, so you can cheer on your team in style. Simply answer […]
Posted on by Mark