Our family firm's 50-year heritage leads to award win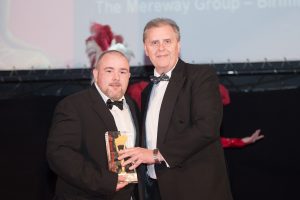 We are extremely proud of our heritage here at e.d.s., having grown from humble beginnings as a small family-owned petrol station into one of the region's leading independent delivery companies.
To have our success as a family business recognised with an award, however, has made us even more so!
We won the title of Midlands Family Business of the Year 2018 at the 11th Midlands Business Awards for our impressive 50-year history under the guidance of three generations of the Evans family.
Here's a little insight into the story behind the success.
Originally Palfrey Service Station, the company was founded by Leonard and Joan Evans in the 1960s. They diversified into parcel delivery when competition from supermarkets and national chains threatened the viability of independent petrol stations, Joan becoming the first collection driver.
The company was taken over by their two sons, Andy and Gary Evans, in 1988, and they have expanded the company to the successful operation it is today, partnering with APC Overnight and Palletforce to offer a global delivery service from its two depots in Cannock and Stoke.
Now, the company is entering the third generation with Andy's son, Matt Evans, currently taking over the helm as managing director.
Matt said: "I'm sure my Nan and Granddad had no idea when they started running Palfrey Service Station that, 50 years on, it would have evolved into a multi-million pound courier firm with two depots, a fleet of 75 trucks and employing 140 staff.
"My dad, Andy, has been the driving force behind the business's impressive growth over the past 25 years, and I'm thrilled to be able to take this forward as a third-generation family member at the helm.
"This award means so much to us as we're extremely proud of our heritage and continue to work to the same values as my Nan and Granddad.
"We have 11 family members working within the organisation and hope the other 129 feel very much like our extended family!"
The Cannock depot doubled its capacity in 2016 with a £3million investment that enabled a move to its current premises.
In less than 13 years, e.d.s. has evolved from working out of a two-car garage to a 36-bay super depot with parking for 60 vans, trucks and trailers, expanding the workforce from 15 in 2013 to more than 100 employees.
"We've seen huge growth in the delivery market during recent years and this has allowed us to take on more staff," continued Matt. "We're achieving 30% year on year growth at the moment and are always looking for the best people to join the e.d.s. family and help us keep growing.
"This weekend the Stoke operation will move into a newly refurbished depot, we are all very excited to see further investment in our infrastructure to enable us to continue the impressive growth."
The Midlands Family Business of the Year Award was presented to Matt Evans by Peter Roper from Family Business Practice at a gala dinner at the Athena in Leicester.
Posted on 13th April 2018 by Mark